Matterhorn Bobsleds – Disneyland – Attraction Checklist #61
Podcast: Play in new window | Download (Duration: 10:51 — 8.0MB) | Embed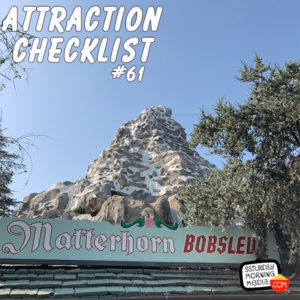 http://www.attractionchecklist.com – Join John B. deHaasand I as we brave the Matterhorn mountain and ride Disneyland's Matterhorn Bobsleds!  Recorded on July 27, 2018.
TRANSCRIPT:
Welcome to Attraction Checklist.
Let's head to Disneyland to conquer one of the park's many mountains! It's time to ride the Matterhorn Bobsleds. The Disneyland website describes this attraction by saying, "Careen through a snow-capped mountain on a speeding alpine sled while avoiding the clutches of the mythic Abominable Snowman."
Guests must be 42" or taller to ride and Fastness and Single Rider options are available for this attraction. The thrill level describes the Matterhorn Bobsleds as being a Thrill and Water ride with Small Drops that is Dark, Loud and Scary.
Before we begin our mountain climbing adventure, here are five fast facts about Disneyland's Matterhorn Bobsleds.
1. The Matterhorn Bobsleds opened at Disneyland on June 14, 1959. Located on the border of Fantasyland and Tomorrowland, the Matterhorn Bobsleds was not officially a part of any land until the 1970s, when the attraction became a permanent part of Fantasyland.
2. The Matterhorn Bobsleds holds the distinction of being the first tubular steel roller coast in the world.
3. The ride's famous Abomidable Snowman was given the name Harold by Disney Imagineers when he took up residence in the mountain in the 1970s.
4. On January 5, 2015, the ride began an extensive refurbishment to install new new effects and updated animatronics for Harold. One of the original Harold figures can now be spotted in the Collectior's Collection at the Guardians of the Galaxy Mission Breakout attraction at Disney California Adventure
5. Yes, the rumors are true. There is a basketball hoop inside the Matterhorn. While not a regulation sized half-court, there is a basketball hoop and playing area in the attraction that is said to have been used by the mountain climber who scaled the mountain regularly to wave at guests down below.
And now, let's ride the Matterhorn Bobsleds. Along for the ride is John B. deHaas and after we ride, we'll give you our initial thoughts on this classic attraction. This is a binaural recording so if you have headphones, put them on now as we are about to experience, the Matterhorn Bobsleds at Disneyland.
The attraction audio recorded for this episode is available exclusively to the Saturday Morning Media Patron Patron.  Support the show and get fun Bonus content over at http://www.patreon.com/saturdaymorningmedia
Episode edited by Stephen Staver
FOLLOW US
http://www.facebook.com/attractionchecklist 
http://www.facebook.com/saturdaymorningmedia 
http://www.twitter.com/SaturdayMMedia 
https://plus.google.com/+Saturdaymorningmedia 
https://www.linkedin.com/company/saturday-morning-media
http://www.youtube.com/user/SaturdayMorningMedia?sub_confirmation=1
FOLLOW GRANT
http://www.MrGrant.com
http://www.twitter.com/toasterboy 
https://instagram.com/throwingtoasters/
DISNEYLAND WEBSITE
https://disneyland.disney.go.com/attractions/disneyland/matterhorn-bobsleds/
WIKIPEDIA
https://en.wikipedia.org/wiki/Matterhorn_Bobsleds
Show ©2018 Saturday Morning Media/Grant Baciocco