Incredicoaster – Disney California Adventure – Attraction Checklist #60
Podcast: Play in new window | Download (Duration: 11:19 — 8.2MB) | Embed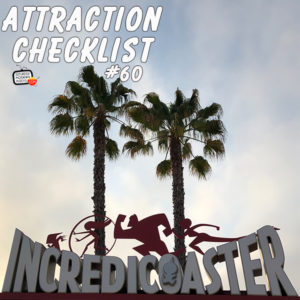 http://www.attractionchecklist.com – Join John B. deHaasand me as we 'Dash' off to Disney California Adventure and experience the newly retimed Incredicoaster!  Recorded on July 27, 2018.
TRANSCRIPT:
Welcome to Attraction Checklist.
This episode, we head back to Disney California Adventure and check out the newly rethemed Incredicoaster.  The Disneyland Resort website describes this attraction by saying, "Buckle up for an exhilarating ride into the world of The Incredibles on this newly re-imagined attraction!"  Guests must be 48" or taller to ride this attraction and Fastpass and single rider is available.  The Thrill Level describes the attraction as being a Thrill Ride that is Loud with Big Drops.
Before we Dash off to ride it, here are five fast facts about The Incredicoaster.
1.  On November 2, 2017, Disney announced a renovation of Paradise Pier that would turn it into Pixar Pier.  The area's signature attraction, California Screamin'  would close down on January 8, 2018 and reopen as Incredicoaster on June 23rd, 2018.
2.  The Incredicoaster is not merely a roller coaster, it does have a storyline.  Taking place after the events of Incredibles 2, the Parr Family gets a roller coaster named after them.  Edna Mode agrees to watch baby Jack-Jack because both of them are too short to ride the attraction, but Jack-Jack escapes as the ride takes off and the Incredibles must work together to reign in his chaos.
3. The figure of Mrs. Incredible aka Elastigirl that appears the second tube of the ride measures 53 feet from head to toe.
4. A total of 19 figures of Jack Jack appear throughout the ride.
5. Michael Giacchino, who scored both Incredibles films created the music used on The Incredicoaster and in the queue area of the attraction.
Let's get set to save the day with the Incredibles.  Along for the ride is John B. deHaas and, seeing as this was both of our first times on this attraction, we'll give you our initial thoughts after the ride audio.  This is a binaural recording so if you have headphones, put them on now as we are about to experience, The Incredicoaster at Disney California Adventure.
The attraction audio recorded for this episode is available exclusively to the Saturday Morning Media Patron Patron.  Support the show and get fun Bonus content over at http://www.patreon.com/saturdaymorningmedia
Episode edited by Stephen Staver
FOLLOW US
http://www.facebook.com/attractionchecklist 
http://www.facebook.com/saturdaymorningmedia 
http://www.twitter.com/SaturdayMMedia 
https://plus.google.com/+Saturdaymorningmedia 
https://www.linkedin.com/company/saturday-morning-media
http://www.youtube.com/user/SaturdayMorningMedia?sub_confirmation=1
FOLLOW GRANT
http://www.MrGrant.com
http://www.twitter.com/toasterboy 
https://instagram.com/throwingtoasters/
DISNEYLAND WEBSITE
https://disneyland.disney.go.com/attractions/disney-california-adventure/incredicoaster/
WIKIPEDIA
https://en.wikipedia.org/wiki/Incredicoaster
Show ©2018 Saturday Morning Media/Grant Baciocco