The Hall of Presidents UPDATED – Magic Kingdom – Attraction Checklist #59
Podcast: Play in new window | Download (Duration: 30:05 — 21.0MB) | Embed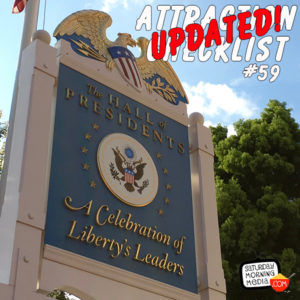 http://www.attractionchecklist.com – Just in time for Election Day, let's revisit The Hall of Presidents and check out the 2017 update featuring the addition of our current president.  Recorded on March 21, 2018.
The attraction audio recorded for this episode is available exclusively to the Saturday Morning Media Patron Patron.  Support the show and get fun Bonus content over at http://www.patreon.com/saturdaymorningmedia
Episode edited by Stephen Staver.
FOLLOW US
http://www.facebook.com/attractionchecklist 
http://www.facebook.com/saturdaymorningmedia 
http://www.twitter.com/SaturdayMMedia 
https://plus.google.com/+Saturdaymorningmedia 
https://www.linkedin.com/company/saturday-morning-media
http://www.youtube.com/user/SaturdayMorningMedia?sub_confirmation=1
FOLLOW GRANT
http://www.MrGrant.com
http://www.twitter.com/toasterboy 
https://instagram.com/throwingtoasters/
WIKIPEDIA
https://en.wikipedia.org/wiki/The_Hall_of_Presidents
Show ©2018 Saturday Morning Media/Grant Baciocco