Alien Swirling Saucers – Disney's Hollywood Studios – Attraction Checklist #55
Podcast: Play in new window | Download (Duration: 10:24 — 7.5MB) | Embed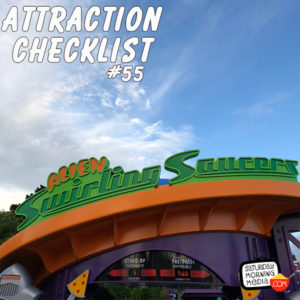 http://www.attractionchecklist.com – John B. deHaasand I head back to Disney's Hollywood Studios to ride the brand new Alien Swirling Saucers!  We ride it and give it a review!  Recorded on July 21, 2018.
The attraction audio recorded for this episode is available exclusively to the Saturday Morning Media Patron Patron.  Support the show and get fun Bonus content over at http://www.patreon.com/saturdaymorningmedia
INTRO TRANSCRIPT:
Welcome to Attraction Checklist.
This episode we head back to Toy Story Land at Disney's Hollywood Studios to ride the area's other new attraction, Alien Swirling Saucers. The guide map describes this attraction by saying Hang on tight for an interstellar romp in a toy rocket – set to an out-of-this-world beat! Guests must be 32" or taller in order to ride and the Thrill level describes the attraction as a Spinning ride. Fastpass+ is available for this attraction.
Before we spin ourselves silly, here are five fast facts about the Alien Swirling Saucers at Disney's Hollywood Studios.
1. The Alien Swirling Saucers attraction was announced publicly for the first time at the 2015 Disney D23 Expo.
2. Though it had a few soft openings and cast member previews, Alien Swirling Saucers officially opened, along with the rest of Toy Story Land, on June 30, 2018.
3. The attraction is designed to look like a playlet that Andy from the Toy Story Films got at the Pizza Planet pizza place.
4. The attraction, similar to Mater's Junkyard Jamboree at Disney California Adventure can spin up to 66 guests at a time for the 1 minute 30 second duration of the attraction.
5. As guests spin in their rocket ships beneath the giant claw suspended from the ceiling, 'space jazz' versions of songs from Toy Story are played.
Enough talking, let's get spinning! Joining me today is John B. deHaas and this is our first ride on the Alien Swirling Saucers so after the ride audio, we will give you our thoughts on it. This is a binaural recording so if you have headphones, put them on now. Also, when recording this attraction, I was able to record the music of the ride that happened before ours. Since the ride is so short and the music is different every ride, I've included both for you to enjoy! Here now is Alien Swirling Saucers at Disney's Hollywood Studios!
FOLLOW US
http://www.facebook.com/attractionchecklist 
http://www.facebook.com/saturdaymorningmedia 
http://www.twitter.com/SaturdayMMedia 
https://plus.google.com/+Saturdaymorningmedia 
https://www.linkedin.com/company/saturday-morning-media
http://www.youtube.com/user/SaturdayMorningMedia?sub_confirmation=1
FOLLOW GRANT
http://www.MrGrant.com
http://www.twitter.com/toasterboy 
https://instagram.com/throwingtoasters/
WALT DISNEY WORLD WEBSITE
https://disneyworld.disney.go.com/attractions/hollywood-studios/alien-swirling-saucers/
ALLEARS.NET
http://allears.net/tp/mgm/alien-swirling-saucers.htm
WIKIPEDIA
https://en.wikipedia.org/wiki/Alien_Swirling_Saucers
Show ©2018 Saturday Morning Media/Grant Baciocco