Slinky Dog Dash – Disney's Hollywood Studios – Attraction Checklist #54
Podcast: Play in new window | Download (Duration: 9:31 — 7.0MB) | Embed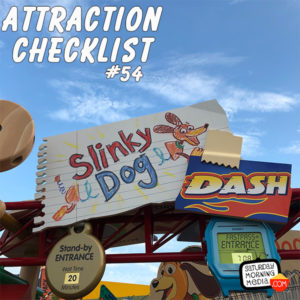 http://www.attractionchecklist.com – Grab a friend and join John B. deHaasand myself as we head to Disney's Hollywood Studios to ride the brand new Slinky Dog Dash!  Recorded on July 21, 2018.
The attraction audio recorded for this episode is available exclusively to the Saturday Morning Media Patron Patron.  Support the show and get fun Bonus content over at http://www.patreon.com/saturdaymorningmedia
INTRO TRANSCRIPT:
Welcome to Attraction Checklist.
It's time to visit Toy Story Land at Disney's Hollywood Studios!  This episode we are going to be riding Slinky Dog Dash which the guide map describes as: Take off on a family friendly coaster as Slinky Dog's coils twist around curves, hills and drops.  The thrill level describes the ride as a Thrill Ride with Small Drops.  Guests must be 38" or taller to ride and Expectant mothers are advised against riding.  Fastness+ is available for this attraction.
Before we head to Andy's backyard, here are Five Fast Facts about Slinky Dog Dash at Disney's Hollywood Studios.
1. Slinky Dog Dash was announced publicly for the first time at the 2015 Disney D23 Expo.
2. Though it had a few soft openings and cast member previews, Slinky Dog Dash officially opened, along with the rest of Toy Story Land, on June 30, 2018.
3. Slinky Dog Dash is unique in Disney Parks as it is the first roller coaster in any disney park to feature a second, mid ride, roller coaster launch.
4.  The 'big finale' of the ride features the first ever audio-animatronic figure of Wheezy, the penguin from the Toy Story Movies.  Wheezy's singing voice was provided by actor Sean Kenin.
5.  Slinky Dog Dash is a mild coaster, reaching top speeds of 33 miles per hour during the 2 minute duration of the ride.
If you are going to Toy Story Land you gotta bring a pal along with you so Joining me today is John B. deHaas and after the ride audio we will let you know our thoughts on this new Disney's Hollywood Studios attraction.  This is a binaural recording so if you have headphones put them on now as we head to Disney's Hollywood Studios to ride Slinky Dog Dash!
FOLLOW US
http://www.facebook.com/attractionchecklist 
http://www.facebook.com/saturdaymorningmedia 
http://www.twitter.com/SaturdayMMedia 
https://plus.google.com/+Saturdaymorningmedia 
https://www.linkedin.com/company/saturday-morning-media
http://www.youtube.com/user/SaturdayMorningMedia?sub_confirmation=1
FOLLOW GRANT
http://www.MrGrant.com
http://www.twitter.com/toasterboy 
https://instagram.com/throwingtoasters/
WALT DISNEY WORLD WEBSITE
https://disneyworld.disney.go.com/attractions/hollywood-studios/slinky-dog-dash/

ALLEARS.NET
http://allears.net/tp/mgm/slinky-dog-dash.htm

WIKIPEDIA
https://en.wikipedia.org/wiki/Slinky_Dog_Dash

Show ©2018 Saturday Morning Media/Grant Baciocco