32 – My Bane And Boon – Elf Centered
Podcast: Play in new window | Download (Duration: 20:04 — 14.3MB) | Embed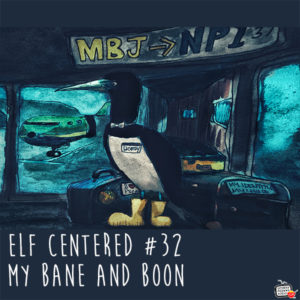 http://www.elfcenteredshow.com – Elf Centered for July 31, 2018 – Gavin is a little ticked off this month.  Wait until you hear why. And in the final few minutes, Gary drops a huge surprise on everybody.  Plus the usual announcements and weather.
Elf Centered is a monthly, completely improvised, broadcast from the North Pole.  Think: Welcome To Night Vale to The Office meets Christmas!
Artwork by Chris Sheets
Music by Kevin MacLeod
Beatrice – Jayne Entwistle
Gary – Chris Sheets
Gavin – Grant Baciocco
Got a question for the Elves?  Send it to hello@saturdaymorningmedia.com.
Help us make more shows like this one.  Become a patron of Saturday Morning Media and get cool rewards!  Visit www.patreon.com/saturdaymorningmedia for info!
FOLLOW US
http://facebook.com/saturdaymorningmedia
http://www.twitter.com/SaturdayMMedia
https://plus.google.com/+Saturdaymorningmedia
https://www.linkedin.com/company/saturday-morning-media
http://www.youtube.com/user/SaturdayMorningMedia?sub_confirmation=1
FOLLOW GRANT
http://www.MrGrant.com
http://www.twitter.com/toasterboy
https://instagram.com/throwingtoasters/
SUBSCRIBE
http://www.youtube.com/user/SaturdayMorningMedia?sub_confirmation=1