The American Advendture 2018 Update – EPCOT – Walt Disney World – Attraction Checklist #49
Podcast: Play in new window | Download (Duration: 36:47 — 27.2MB) | Embed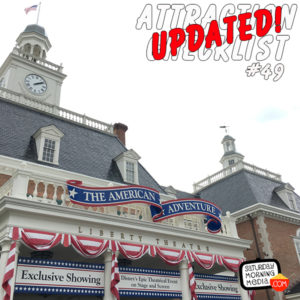 http://www.attractionchecklist.com – For the first episode of Season 3, we head back to EPCOT to check out the newly revamped AMERICAN ADVENTURE?  How do these new changes sound?  Tune in and see!  Recorded on March 22, 2018.
The attraction audio recorded for this episode is available exclusively to the Saturday Morning Media Patron Patron.  Support the show and get fun Bonus content over at http://www.patreon.com/saturdaymorningmedia
INTRO TRANSCRIPT:
Welcome to Attraction Checklist.

To kick off the third season of Attraction Checklist, we're going to revisit an attraction we've already featured on the show but one that recently got an update. 
Way back in episode 3 we featured The American Adventure at EPCOT.  On February 9, 2018, Disney announced that the attraction would be receiving a bit of a refresh.  The theatre received all new digital projectors, a new screen and new speakers.  The ending film montage received a new edit adding new notable figures from American history and the attraction's signature song, Golden Dream, was rerecorded with all-new orchestration. 
So sit back and enjoy this recording of the refreshed American Adventure.  After the audio, I'll give you my thoughts on the update.  This is a binaural recording so if you have headphones, put them on now as we head to EPCOT to experience The American Adventure.
FOLLOW US
http://www.facebook.com/attractionchecklist 
http://www.facebook.com/saturdaymorningmedia 
http://www.twitter.com/SaturdayMMedia 
https://plus.google.com/+Saturdaymorningmedia 
https://www.linkedin.com/company/saturday-morning-media
http://www.youtube.com/user/SaturdayMorningMedia?sub_confirmation=1
FOLLOW GRANT
http://www.MrGrant.com
http://www.twitter.com/toasterboy 
https://instagram.com/throwingtoasters/
Sources:
DISNEY PARKS BLOG
https://disneyparks.disney.go.com/blog/2018/02/epcots-american-adventure-attraction-will-add-new-american-icons-this-month/

Show ©2018 Saturday Morning Media/Grant Baciocco