Rock 'n' Rollercoaster starring Aerosmith – Disney's Hollywood Studio – Attraction Checklist #47
Podcast: Play in new window | Download (Duration: 12:01 — 10.5MB) | Embed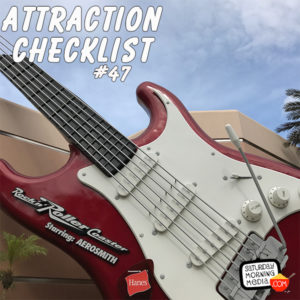 http://www.attractionchecklist.com – Rock on!  We are headed to Walt Disney World to ride Disney's Hollywood Studios' Rock 'n' Rollercoaster starring Aerosmith!  I learn a bit about the attract then head in for a ride.  Recorded on March 22, 2018.
The attraction audio recorded for this episode is available exclusively to the Saturday Morning Media Patron Patron.  Support the show and get fun Bonus content over at http://www.patreon.com/saturdaymorningmedia
INTRO TRANSCRIPT:
Welcome to Attraction Checklist.
This episode we cover one of my favorite attractions, Rock 'n' Rollercoaster Starring Aerosmith.  Located in Disney's Hollywood Studios in Walt Disney World, Rock 'n' Rollercoaster starring Aerosmith is described in the guide map as follows: Blast coffin a stretch limousine through the streets of Los Angeles to the rockin' tunes of Aerosmith.  Guests must be 48" or taller in order to ride and the thrill level describes the attraction as being a Thrill Ride with Big Drops that is Loud.  Fastpass+ and Single Rider lines are available.
Before we head to our super stretch limo, here are five fast facts about Rock 'n' Rollercoaster starring Aerosmith.
1. Though there were soft openings, this attraction officially opened on July 29, 1999.  There was a special, invitation only party and attendees got to ride the attraction with members of Aerosmith!
2. The rollercoaster has a track length of 3,403 feet.  It features 3 inversions and reaches top speeds of 57 miles per hour.  And at the start of the ride, the trains accelerate to 57 miles per hour in 2.8 seconds.
3.  The attraction features a fleet of 6 'super stretch limo' roller coaster trains.  While at any given time, one of the trains is kept in refurbishment, the other 5 can be identified by their unique license plates.  Not only are the license plates different, each of the five working trains have a different soundtrack of Aerosmith.
4.  Aerosmith recorded special versions of some of the songs that have new lyrics for the ride.  For example, Love in and Elevator became Love on a Rollercoaster.
5.  The reason the music sounds so good on the attraction is because each train features a 125-speaker, 24 sub-woofer, 32,000 watt audio system.  This is all in addition to the 820 speakers in the show building and the launch area.
It's now time to ride Rock 'n' Rollercoaster starring Aerosmith at Disney's Hollywood Studios.  I'm a Single Rider this time so after the ride audio I'll give you my thoughts on this attraction.  This is a binaural recording so if you have headphones, put them on now as we experience Disney's Hollywood Studios's Rock 'n' Rollercoaster starring Aerosmith.
FOLLOW US
http://www.facebook.com/attractionchecklist 
http://www.facebook.com/saturdaymorningmedia 
http://www.twitter.com/SaturdayMMedia 
https://plus.google.com/+Saturdaymorningmedia 
https://www.linkedin.com/company/saturday-morning-media
http://www.youtube.com/user/SaturdayMorningMedia?sub_confirmation=1
FOLLOW GRANT
http://www.MrGrant.com
http://www.twitter.com/toasterboy 
https://instagram.com/throwingtoasters/
Sources:
WALT DISNEY WORLD WEBSITE
https://disneyworld.disney.go.com/attractions/hollywood-studios/rock-and-roller-coaster-starring-aerosmith/
WIKIPEDIA
https://en.wikipedia.org/wiki/Rock_'n'_Roller_Coaster_Starring_Aerosmith
Show ©2018 Saturday Morning Media/Grant Baciocco