First Day on the Job! – The Tales of Deputy Guppy #101
Podcast: Play in new window | Download (Duration: 8:59 — 7.1MB) | Embed
GUEST STARRING: CHUCK MCCANN
Return with us to the thrilling days of not too long ago when the west was wild and the rivers in the west were even wilder!  Luckily there was one fish to maintain law and order, one fish to reel in those who dared disturb the peace and tranquility of Driftwood Gulch!  One fish to stand for truth, justice and honor in the untamed rivers of the wild west…Deputy Guppy!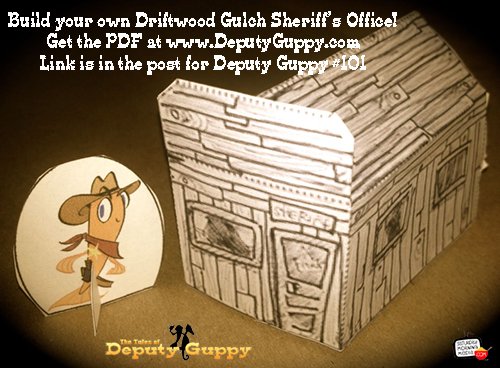 DOWNLOAD YOUR DRIFTWOOD GULCH ACTION PLAYSET BUILDING HERE
Starring:
Chuck McCann as Sheriff Bass
Grant Baciocco as Deputy Guppy
Russ Walko as Johnson
and Kevin Berntson as The Narrator
Episode Music By Dan Ring

Help us grow!  Leave us a review on Apple Podcasts!
©2018 Grant Baciocco/Saturday Morning Media – http://www.SaturdayMorningMedia.com