Stitch's Great Escape! – Magic Kingdom – Walt Disney World
Podcast: Play in new window | Download (Duration: 23:08 — 18.3MB) | Embed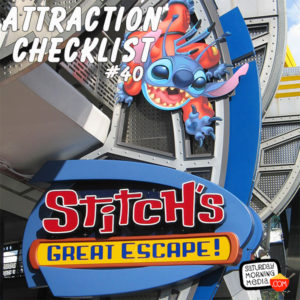 http://www.attractionchecklist.com – Let's head to Tomorrowland in Walt Disney World's Magic Kingdom to experience Stitch's Great Escape!  We learn a little about the attraction and then hear it in binaural audio!  Recorded on May 25, 2016.
The attraction audio recorded for this episode is available exclusively to the Saturday Morning Media Patron Patron.  Support the show and get fun Bonus content over at http://www.patreon.com/saturdaymorningmedia
INTRO TRANSCRIPT:
Welcome to Attraction Checklist.
This episode we head to Magic Kingdom at Walt Disney World to experience the Tomorrowland attraction Stitch's Great Escape!  The guide map says: Interact with a mischievous Stitch in this dark theatre-in-the-round experience.  There is a height requirement of 40" for this attraction and the Thrill Level describes Stitch's Great Escape! as being Dark, Scary and Loud.
1. Stitch's Great Escape opened at The Magic Kingdom on November 16, 2004.  To celebrate the attraction's opening, Cinderella's Castle at Magic Kingdom was covered in toilet paper.  Supposedly a prank by Experiment 626, Stitch, himself.
2.  Stitch's Great escape is the fourth attraction to occupy this show building in Tomorrowland.  The original right was Flight To The Moon which later became Mission to Mars.  After that, the building was home for ExtraTERRORestriel Alien Encounter.  When that ride was shuttered, Stitch's Great Escape moved in.
3.  Several show elements from Alien Encounter remain in Stitch's Great Escape.  Including the alien known as Skippy during the pre-show.
4.  With the attraction being based on the film Lilo and Stitch, many of the voice actors from the film reprise their roles in this attraction.  This includes Kevin MacDonald as pleakly and Chris Sanders as Stitch.  The storyline of this attraction takes place before the events of the movie.
5.  The Stitch audio animatronic built for the show stands approximately 39" tall and is, reportedly, the first audio animatronic ever to spit.
Now, let's check out Stitch's Great Escape.  I have edited down the audio during the transitions between rooms to make the show flow a bit quicker.  Keep listening after the attraction audio I'll give you my thoughts on this attraction and if you have headphones, put them on now as this is a binaural recording of Stitch's Great Escape at Walt Disney WOrld's Magic Kingdom.
FOLLOW US
http://www.facebook.com/attractionchecklist 
http://www.facebook.com/saturdaymorningmedia 
http://www.twitter.com/SaturdayMMedia 
https://plus.google.com/+Saturdaymorningmedia 
https://www.linkedin.com/company/saturday-morning-media
http://www.youtube.com/user/SaturdayMorningMedia?sub_confirmation=1
FOLLOW GRANT
http://www.MrGrant.com
http://www.twitter.com/toasterboy 
https://instagram.com/throwingtoasters/
Sources:
WALT DISNEY WORLD WEBSITE
https://disneyworld.disney.go.com/en_GB/attractions/magic-kingdom/stitchs-great-escape/
WIKIPEDIA
https://en.wikipedia.org/wiki/Stitch%27s_Great_Escape!
DADSGUIDETOWDW.COM
https://www.dadsguidetowdw.com/stitchs-great-escape.html
Show ©2018 Saturday Morning Media/Grant Baciocco