Na'vi River Journey – Disney's Animal Kingdom – Attraction Checklist #027
Podcast: Play in new window | Download (Duration: 14:35 — 12.8MB) | Embed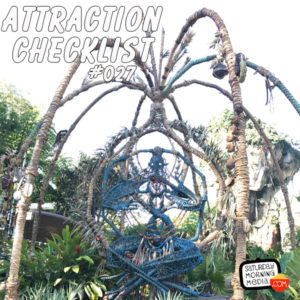 http://www.attractionchecklist.com – Let's head back to Pandoa at Disney's Animal Kingdom to experience and review one of the park's newest attractions, the Na'vi River Journey!  Recorded during a soft opening on May 26, 2017.
Bonus content for this episode is available to the Saturday Morning Media Patreon Patrons.  Support the show and get fun Bonus content over at http://www.patreon.com/saturdaymorningmedia
Intro Bumper by Clinton of Comedy4Cast – http://www.comedy4cast.com
INTRO TRANSCRIPT
This episode we are headed back to Disney's Animal Kingdom to Pandora to hop on the Na'vi River Journey.  The souvenir guidemap describes the Na'vi River Journey as follows: Journey deep into the bioluminescent rainforest in search of the Na'vi Shaman of Songs.  There are no age or height requirements for this attraction and FastPass+ is available.
Before we search for the Shaman of Songs, here are five fast facts about the Na'vi River Journey.
1. The Na'vi Rivier Journey, based on James Cameron's movie Avatar, had several soft opening previews, but officially opened at Disney's Animal Kingdom on May 27, 2017.
2. The winding queue area features textiles created by the Na'vi as well as totems to the Shaman of Songs.
3. The ceiling of the main queue area features a woven map of the Kaspavan river and at night, this map lights up and shows 'real time' representations of the various life forms moving along the river.
4.  The 4 and a half minute long river journey features layered projections of various Pandora natives and wildlife coupled with actual sets and video projection mapping technology to make creatures seem three dimensional.
5.  The finale of the attraction features a float past the Shaman of Songs.  There is not much information available about the building of the Shaman of songs animatronic other than it is the most complex animatronic Walt Disney Imagineering has ever created.  Walt Disney Imagineering Executive producer Lisa Girolami says of the animatronic, "…the key is we don't stop until that technology can't be seen. It should be invisible, so when you see the Shaman she does look lifelike."
And now that we know a little more about the Na'vi River Journey, let's hop aboard our boat and experience the attraction for ourselves.  This is a binaural recording so if you have headphones, put them on now and stay tuned after the ride to hear my initial impressions of the Na'Vi River Journey at Disney's Animal Kingdom!
FOLLOW US
http://www.facebook.com/attractionchecklist
http://www.facebook.com/saturdaymorningmedia
http://www.twitter.com/SaturdayMMedia
https://plus.google.com/+Saturdaymorningmedia
https://www.linkedin.com/company/saturday-morning-media
http://www.youtube.com/user/SaturdayMorningMedia?sub_confirmation=1
FOLLOW GRANT
http://www.MrGrant.com
http://www.twitter.com/toasterboy
https://instagram.com/throwingtoasters/
Sources:
WALT DISNEY WORLD WEBSITE
https://disneyworld.disney.go.com/attractions/animal-kingdom/navi-river-journey/
OCREGISTER.COM
http://www.ocregister.com/2017/06/01/disneys-animal-kingdom-ride-review-navi-river-journey/
THE VERGE
https://www.theverge.com/2017/5/29/15702592/pandora-world-of-avatar-navi-river-journey-ride-review
ORLANDO INFORMER
https://orlandoinformer.com/disney/navi-river-journey/
Show ©2017 Saturday Morning Media/Grant Baciocco