Tomorrowland Transit Authority PeopleMover – Magic Kingdom – Attraction Checklist #026
Podcast: Play in new window | Download (13.8MB) | Embed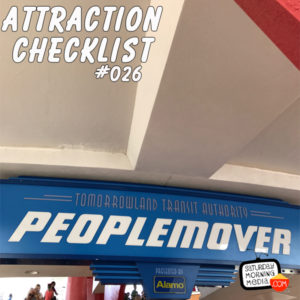 http://www.attractionchecklist.com – It's time to take a spin on one of Magic Kingdom's classic attractions, the Tomorrowland Transit Authority PeopleMover.  This episode we take a ride around Tomorrowland on it with friend to the show, John B. deHaas.  Recorded during on May 25, 2017.
Bonus content for this episode is available to the Saturday Morning Media Patreon Patrons.  Support the show and get fun Bonus content over at http://www.patreon.com/saturdaymorningmedia
Intro Bumper by Rachel & Zeke of the Behind The Magic Podcast – https://www.btmpodcast.com
INTRO TRANSCRIPT
This episode we are going to Magic Kingdom in Walt Disney World to enjoy the classic disney attraction, the Tomorrowland Transit Authority PeopleMover presented by Alamo.  The guide map describes this attraction by saying:  Ride this emission-free mass transit system of the future.  There are no height or age requirements for this ride and the thrill level is describes the ride as being a slow ride.
Before we embark on our journey around Tomorrowland, here are five fast facts about the Tomorrowland Transit Authority People Mover:
1. This attraction, originally called the WEDWay PeopleMover, opened on July 1, 1975.  It was based on the PeopleMover at Disneyland Park in California.  In 1994, when tomorrowland was receiving a complete overhaul, the name of the ride was changed to the Tomorrowland Transit Authority Peoplemover.
2. The Tomorrowland Transit Authority is powered magnetically with linear induction motors making it completely emissions free.
3. The narration for the current version of the  Tomorrowland Transit Authority PeopleMovier is provided by Mike Brassell who also serves as narrator for the Living With The Land attraction at EPCOT.
4.  One of the highlights of any ride on the Tomorrowland Transit Authority Peoplemver is passing by the model for Progress City.  The portion of the model seen on the attraction today is just a small part of the original model which served as the preview for Walt Disney's vision for EPCOT.
5.  While your Peoplemover vehicle travels through Space Mountain, you hear a page for Mr. Tom Morrow to contact a Mr. Johnson.  Tom Morrow was a character in the former tomorrowland attraction Flight to the Moon.  When the same attraction was renamed Flight to Mars, the character of Tom Morrow was renamed Mr. Johnson
And now it's time to ride the Tomorrowland Transit Authority PeopleMover.  Joining us again today is John deHaas and after we ride we'll discuss our thoughts on this classic Magic Kingdom attraction.  If you have headphones, put them on now as this is a binaural recording of the Tomorrowland Transit Authority Peoplemover.
FOLLOW US
http://www.facebook.com/attractionchecklist
http://www.facebook.com/saturdaymorningmedia
http://www.twitter.com/SaturdayMMedia
https://plus.google.com/+Saturdaymorningmedia
https://www.linkedin.com/company/saturday-morning-media
http://www.youtube.com/user/SaturdayMorningMedia?sub_confirmation=1
FOLLOW GRANT
http://www.MrGrant.com
http://www.twitter.com/toasterboy
https://instagram.com/throwingtoasters/
Sources:
WIKIPEDIA
https://en.wikipedia.org/wiki/Tomorrowland_Transit_Authority_PeopleMover
WALT DISNEY WORLD WEBSITE
https://disneyworld.disney.go.com/attractions/magic-kingdom/tomorrowland-transit-authority-peoplemover/
Show ©2017 Saturday Morning Media/Grant Baciocco