Avatar Flight of Passage – Disney's Animal Kingdom – Attraction Checklist #025
Podcast: Play in new window | Download (Duration: 22:35 — 18.6MB) | Embed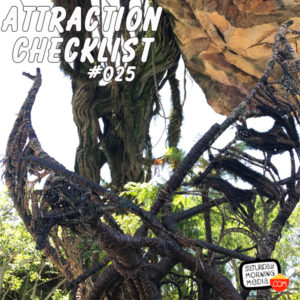 http://www.attractionchecklist.com – Pandora The World of Avatar is open at Disney's Animal Kingdom and Attraction Checklist was there opening day!  Listen in to learn a bit about the land's marquee attraction Avatar Flight of Passage and then experience the audio of the attraction for yourself!  Recorded during a soft opening on May 26, 2017.
Bonus content for this episode is available to the Saturday Morning Media Patreon Patrons.  Support the show and get fun Bonus content over at http://www.patreon.com/saturdaymorningmedia
Intro Bumper by Clinton of Comedy4Cast – http://www.Comedy4Cast.com
INTRO TRANSCRIPT
Welcome to Attraction Checklist.
Exciting times this episode as we head to the recently opened Pandora – The World of Avatar at Disney's Animal Kingdom and ride the area's marquee attraction: Avatar Flught of Passage. 
Located in Pandora – The World of Avatar, Flight of Passage is described in the guidebooks in the following manner: Fly on the back of a mountain banshee during an exhilarating 3-d ride above this vast moon.  The Thrill level describes the attraction as being a Thrill Ride.  There is a height requirement of 44 inches or taller to ride this attraction and FastPass Plus is available.
Before we soar above Pandora, here are five fast facts about Flight of Passage.
1.  Though it had several soft opening previews, Avatar Flight of Passage officially opened on May 27, 2017 along with the rest of Pandora – The World of Avatar at Disney's Animal Kingdom.
2.  According to some sources, the elaborate queue area of the Avatar Flight of Passage attraction is built to accommodate a whopping four to five hour wait!
3. The videos seen in the attraction's pre-show have different variations.  One deals with scanning visitors for harmful parasites while another explains how the Banshee are a 'keystone species' of pandora.
4.  The attraction features eight 'link chairs' or ride seats per room, two rooms per floor and several floors for each of the four theaters the house the attraction.  The screen in each of the theaters is 70 feet wide and 100 feet tall!
5.  As you experience the the four and a half minute long ride, you feel mist from the ocean waters, smell the earth and you can actually feel the banshee you are riding breathe under neath you.
And now it's time to ride Avatar Flight of passage.  This audio begins with the first pre-show room and then continues through the entire attraction.  This is a binaural recording so if you have headphones, put them on now.  After ride, I'll give you my thoughts on the brand new Disney's Animal Kingdom attraction, Avatar Flight of Passage.
FOLLOW US
http://www.facebook.com/attractionchecklist
http://www.facebook.com/saturdaymorningmedia
http://www.twitter.com/SaturdayMMedia
https://plus.google.com/+Saturdaymorningmedia
https://www.linkedin.com/company/saturday-morning-media
http://www.youtube.com/user/SaturdayMorningMedia?sub_confirmation=1
FOLLOW GRANT
http://www.MrGrant.com
http://www.twitter.com/toasterboy 
https://instagram.com/throwingtoasters/
Sources:
WIKIPEDIA
https://en.wikipedia.org/wiki/Avatar_Flight_of_Passage
WALT DISNEY WORLD WEBSITE
https://disneyworld.disney.go.com/attractions/animal-kingdom/avatar-flight-of-passage/
WHNT.COM
http://whnt.com/2017/06/02/flight-of-passage-avatar-ride-is-disneys-best-new-attraction-in-years/
THE VERGE
https://www.theverge.com/2017/5/27/15702590/pandora-world-of-avatar-flight-of-passage-ride-review
Show ©2017 Saturday Morning Media/Grant Baciocco