Journey Into Imagination With Figment – EPCOT – Attraction Checklist #015
Podcast: Play in new window | Download (Duration: 16:12 — 13.4MB) | Embed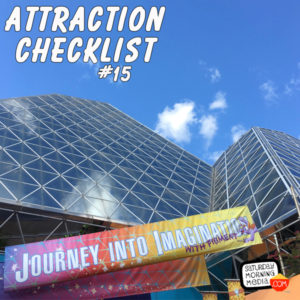 http://www.attractionchecklist.com – Let's take a Journey Into Our Imaginations with the lovable Figment as we ride EPCOT'S Journey Into Imagination With Figment.  Along for the ride is John B. deHaas who actually worked the original incarnation of this attraction.  How does he feel about the current version?  You'll have to listen to find out!  Audio recorded on October 28, 2016.
Bonus content for this episode is available to the Saturday Morning Media Patreon Patrons.  Support the show and get fun Bonus content over at http://www.patreon.com/saturdaymorningmedia
Intro Bumper by Paul of the Window to the Magic – http://www.windowtothemagic.com
INTRO TRANSCRIPT
Welcome to Attraction Checklist.
Today we are going to visit the open house at the Imagination Institute as we ride Journey Into Imagination with Figment located in EPCOT's future Word west at Walt Disney World in Florida.  The guide map describes this attraction by saying 'Follow Figment in this whimsical open house tour of the Imagination Institute'.  This is a Dark, slow ride according to the the Thrill Level and it is open to guests of all ages and heights.  Fastness plus is offered.
Before we meet up with Dr. Nigel Channing, here are five fast facts about Journey Into Imagination with Figment.
1. Journey into imagination with Figment opened on June 2, 2002.  This attraction is the third version of the attraction housed in Imagination Pavilion at EPCOT.  The original Journey Into Imagination opened on March 5, 1983.  It closed on October 10, 1998 for renovation and reopened on October 1, 1999 as Journey into Your Imagination which only lasted two years before it was closed on October 8, 2001 to make way for the latest incarnation.
2. For the ride, Eric Idle reprises his role of Dr. Nigel Channing from the Honey, I Shrunk The Kids Franchise.  The original voice of Figment, Billy Barty passed away in 2000 so Dave Goelz was hired to portray the new Figment.  If Dave Goelz's name isn't familiar, you certainly know of one of his other alter egos, Gonzo from The Muppets.
3. Journey Into Imagination with Figment marked the return of the Sherman Brother's song One Little Spark.  This song featured prominently in the original Journey into imagination attraction but was removed for Journey into Your imagination which drew a lot of criticism from fans.
4. There are several references to other Disney movies in this attraction including The Absent Minded Professor, The Computer Wore Tennis Shoes and Honey I Shrunk The Kids.
5. The ride also features some tributes to the classic Journey Into Imagination attraction.  Many animatronics and figures of Figment feature prominently in the ride and the reapperaing/dissapearing butterfly from the original can be seen as well.  There's also a brief tribute to The Dreamfinder, the ride's original host.
Now, lets visit the Imagination institute and take a ride on Journey Into Imagination With Figment.  John B. deHaas is along for the ride today and after the ride audio, we'll discuss our thoughts on this attraction.  This is a binaural recording so if you have headphones, put them on now as we set our imaginations free on EPCOT'S Journey Into Imagination with Figment.
FOLLOW US
http://www.facebook.com/attractionchecklist
http://www.facebook.com/saturdaymorningmedia
http://www.twitter.com/SaturdayMMedia
https://plus.google.com/+Saturdaymorningmedia
https://www.linkedin.com/company/saturday-morning-media
http://www.youtube.com/user/SaturdayMorningMedia?sub_confirmation=1
FOLLOW GRANT
http://www.MrGrant.com
http://www.twitter.com/toasterboy
https://instagram.com/throwingtoasters/
Sources:
WIKIPEDIA
https://en.wikipedia.org/wiki/Journey_into_Imagination_with_Figment
DISNEY WORLD WEBSITE
https://disneyworld.disney.go.com/attractions/epcot/journey-into-imagination-with-figment/
Show ©2017 Saturday Morning Media/Grant Baciocco