A Christmas Fantasy – Disneyland – Attraction Checklist #014
Podcast: Play in new window | Download (Duration: 32:00 — 24.4MB) | Embed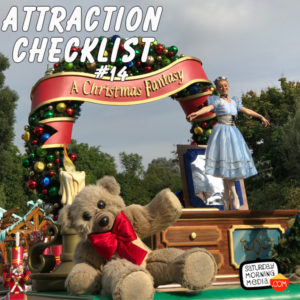 http://www.attractionchecklist.com – Merry Christmas! Celebrate the season with Disneyland's A Christmas Fantasy! Learn about this Disneyland Parade and then experience it in binaural audio! We welcome your thoughts over at the Attraction Checklist Facebook Page at http://www.facebook.com/attractionchecklist. Audio recorded on November 16, 2016, near It's A Small World.
Intro Bumper by Paul of the Window to the Magic – http://www.windowtothemagic.com
INTRO TRANSCRIPT
On today's episode, all our Christmas Wishes come true as we experience the A Christmas Fantasy Parade at Disneyland.
A Christmas Fantasy is described in the entertainment guide by saying, "Beloved Disney Characters join Santa Claus for a merry musical celebration that's heading your way down Main Street, U.S.A.!"  As this is a parade, there are no height age requirements at all.
Before we enjoy this holiday spectacular, here are five fast facts about the Christmas Fantasy Parade.
A Christmas Fantasy Parade debuted at Disneyland on November 13, 1994 replacing the A Very Merry Christmas Parade.
Over the years there have been several versions of the Christmas Fantasy Parade.  Mostly rotating characters who are currently popular into the parade.  For example, Elsa and Anna have currently rotated into the parade.
Characters who have appeared in the parade over the years but are not currently featured include Aladdin, Scrooge McDick, Roget Rabbit and The Hunchback of Notre Dame.
Not including Disney characters, there are over 60 performers who bring the parade to life.  These include Santa's Elve's, Ballroom dancers and skiers and ice skaters who travel the parade route on skates.  This does not include the toy soldiers, reindeer or snowmen and women as well!
While the parade's theme song, A Christmas Fantasy, plays during the entire parade route, each parade unit features special music that blends with the main theme as the passes by.
And now let's experience the A Christmas Fantasy parade at Disneyland.  After the parade audio, I'll give you my thoughts on this yearly addition to Disneyland and I'd love to hear your thoughts over at the Attraction Checklist Facebook page at facebook.com/attractionchecklist.  Now if you have headphones, put them on now because this is a binaural recording of A Christmas Fantasy.
FOLLOW US
http://www.facebook.com/attractionchecklist
http://www.facebook.com/saturdaymorningmedia
http://www.twitter.com/SaturdayMMedia
https://plus.google.com/+Saturdaymorningmedia
https://www.linkedin.com/company/saturday-morning-media
http://www.youtube.com/user/SaturdayMorningMedia?sub_confirmation=1
FOLLOW GRANT
http://www.MrGrant.com
http://www.twitter.com/toasterboy
https://instagram.com/throwingtoasters/
Sources:
WIKIPEDIA
https://en.wikipedia.org/wiki/A_Christmas_Fantasy_Parade
DISNEY DOSE
http://disneydose.com/parades/#axzz4S5sKSN9y
DISNEYLAND WEBSITE
https://disneyland.disney.go.com/entertainment/disneyland/christmas-fantasy-parade/
MOUSE INFO
http://www.mouseinfo.com/info/index.php/A_Christmas_Fantasy_Parade_(Disneyland_Resort)
This show is not affiliated or endorsed by the Walt Disney Company. It is for entertainment purposes only.
Show ©2016 Saturday Morning Media/Grant Baciocco