Splash Mountain – Disneyland – Attraction Checklist #008
Podcast: Play in new window | Download (Duration: 17:08 — 14.0MB) | Embed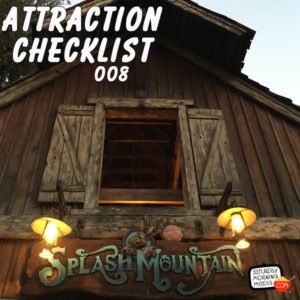 On this episode of Attraction Checklist we find out Laughing Place as we ride Disneyland's Splash Mountain.  Before we ride through in glorious binaural audio, we learn a little bit about one of the park's most popular attractions!  After the ride, I give my thoughts on the attraction and I welcome your thoughts over at the Attraction Checklist Facebook Page.  Ride audio recorded on July 12, 2016, last seat in the log.
INTRO TRANSCRIPT
Welcome to Attraction Checklist.
This episode we ride an attraction that was suggested by a listener over on the Attraction Checklist Facebook page at facebook.com/attractionchecklist.  They wanted us to head over to Critter Country at Disneyland and take a ride on one of the most popular rides in the park, Splash Mountain.
Splash Mountain is described in the guide as follows:  Embark on a rollicking log flume ride featuring characters and songs from the classic Disney film Song of the South.  The attraction is open to all guests 40" or taller.  Fast passes are available and there is a single rider line offered.  The Thrill Level for this attraction is described as being Loud, Dark, and A Water and Thrill Ride.
Before we take our service elevator ride, let's check out five fast facts about The Twilight Zone Tower of Terror.
Construction on Splash Mountain began in April 1987 and the ride officially opened just over two years later on July 17, 1989
In 1988, in anticipation of Splash Mountains opening, the name of the area the attraction is located was changed from Bear Country to Critter Country.  This was not the first name change for that section of the park, however.  From 1956, when Disneyland opened, to 1971 this area of Disneyland was known as the Indian Village.
As much as it pains me to say it, the bulk of the animatronic figures featured in Disneyland's Splash Mountain were from the Tomorrowland Attraction America Sings.  The story goes that in order to cut costs on the ,already over budget, construction of Splash Mountain, the decision was made to close America Sings, which had seen declining attendance, and reuse the animal animatronics from that attraction on Splash Mountain.
The big drop into the Briar patch at Disneyland's Splash Mountain is around 52 feet, a height equal to 5 stories!  Logs traveling down the drop can reach speeds of 40 miles per hour!
The riverboat featured at the end of the attraction measures 50 feet wide and 30 feet high making it one of the largest animated props Disney has ever built.
So let's hop a log to our laughing place and experience SPalsh Mountain at Disneyland.  After the ride audio, I share my thoughts on the attraction and I'd love to hear YOUR thoughts on it as well over at the  Attraction Checklist Facebook page at facebook.com/attractionchecklist..  This is a binaural recording, so if you have headphones put them on now because we are about to experience, Disneyland's Splash mountain.
FOLLOW US
http://www.facebook.com/attractionchecklist
http://www.facebook.com/saturdaymorningmedia
http://www.twitter.com/SaturdayMMedia
https://plus.google.com/+Saturdaymorningmedia
https://www.linkedin.com/company/saturday-morning-media
http://www.youtube.com/user/SaturdayMorningMedia?sub_confirmation=1
FOLLOW GRANT
http://www.MrGrant.com
http://www.twitter.com/toasterboy
https://instagram.com/throwingtoasters/
SUBSCRIBE
http://www.youtube.com/user/SaturdayMorningMedia?sub_confirmation=1
Sources:
Wikipedia
https://en.wikipedia.org/wiki/Splash_Mountain
Thanks to:
http://windowtothemagic.com
This show is not affiliated or endorsed by the Walt Disney Company.  It is for entertaiment purposes only.
Show ©2016 Saturday Morning Media/Grant Baciocco