Monsters, Inc. Mike & Sulley To The Rescue! – Disney California Adventure – Attraction Checklist #005
Podcast: Play in new window | Download (Duration: 11:17 — 9.6MB) | Embed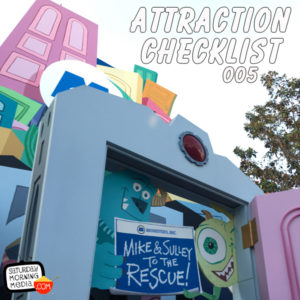 Let's head to Monstroppolis by way of Disney California Adventure and take a ride on Monsters, Inc. Mike & Sulley To The Rescue!  Along for the ride is musician John B. deHaas who also discusses the ride with me after we make it back to the human world.
INTRO TRANSCRIPT
Welcome to Attraction Checklist, 
On this episode, we head to Disney California Adventure to help save Boo on Monster's Inc: Mike and Sulley to the Rescue
Nestled deep in the Hollywood Land section of the park, this dark ride based on the Monsters Inc film series is described in the guide map in the following manner:  Race through Monstropolis to return Boo to her room.  There is no height requirement on this attraction and the Thrill Level describes the ride as being Loud, Dark and a slow ride.
Before we ride, here are five fast facts about Mike and Sulley to the rescue.
The ride officially opened on January 23, 2006 replacing the much panned and short lived Superstar Limo attraction.  Mike and Sulley to the rescue uses the same track layout and the same ride vehicles which have been redecorated to look like Monstropolis taxi Cabs
John Goodman, Billy Crystal and Steve Buscemi all reprised their roles from the film for the attraction, Goodman voicing SUlley, Crystal voicing Mike and Buscemi voicing Randall.  Other actors from the film provided voices as well.
Each of the Taxi Cab vehicles have different monster related vanity license plates such as SCREMR, FOBYAH and PEEKABOO.
As your taxi cab makes it's way through Harryhausen's sushi restaurant (named after special effects pioneer Ray Harryhousen), the smell of ginger is pumped into the air for an added bit of realism.
The end of the ride features an audioanimatronic of the character Roz from Monster's inc.  She will have some parting words for you before you leave and, very often, those are directed specifically toward one of the riders in the cab.  This makes for a completely different ride each time.
Let's are ready to explore Monstropolis now and, good news, we aren't along.  My friend, musician, John B. deHaas is along for the ride.  Be sure to stick around after the listen through to hear our thoughts on this attraction and we'd love to hear your thoughts too over at the  Attraction Checklist Facebook page at facebook.com/attractionchecklist..  Also, this is a binaural recording, so if you have headphones, put them on now as we climb aboard our taxi to experience Monster's Inc. Mike and Sulley to the rescue!
FOLLOW US
http://www.facebook.com/attractionchecklist
http://www.facebook.com/saturdaymorningmedia
http://www.twitter.com/SaturdayMMedia
https://plus.google.com/+Saturdaymorningmedia
https://www.linkedin.com/company/saturday-morning-media
http://www.youtube.com/user/SaturdayMorningMedia?sub_confirmation=1
FOLLOW GRANT
http://www.MrGrant.com
http://www.twitter.com/toasterboy
https://instagram.com/throwingtoasters/
SUBSCRIBE
http://www.youtube.com/user/SaturdayMorningMedia?sub_confirmation=1
Sources:
Wikipedia
https://en.wikipedia.org/wiki/Monsters,_Inc._Mike_%26_Sulley_to_the_Rescue!
Mouse Planet
https://www.mouseplanet.com/guide/693/Disneyland-Resort/Disney-California-Adventure/Hollywood-Land/Monsters-Inc-Mike-and-Sulley-to-the-Rescue
AllEars.net
http://allears.net/dlr/tp/dca/monsters.htm
Thanks to:
http://windowtothemagic.com
This show is not affiliated or endorsed by the Walt DIsney Company.  It is for entertaiment purposes only.
Show ©2016 Saturday Morning Media/Grant Baciocco